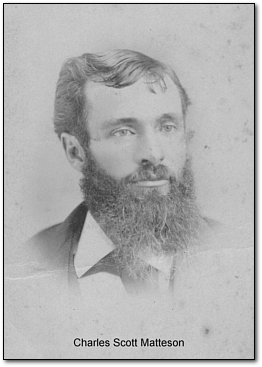 A Narrative of the Matteson-Dowling Descent
Although the Matteson Family Congress assembled records of American Mattesons, one line of the descendency of Charles Scot Matteson has never been included in Matteson records. Heretofore many Mattesons have not known their connection to the Matteson family nationally. The reason is simple, Charles Scot Matteson had a family that was never recorded.
Charles Scot Matteson's first known family began when he married Lucretia Maude Dowling after the Civil War. Lucretia was born near Lima, Ohio, in 1842. She grew to be a devout Christian woman, a fervent abolitionist, and a pioneering woman college graduate. At the end of the American Civil War, Lucretia was sent to a mission station at Freeport, Ivory Coast. There she met and married Charles Scott Matteson, a young, one-armed Civil War veteran, who lost his arm at Gettysburg.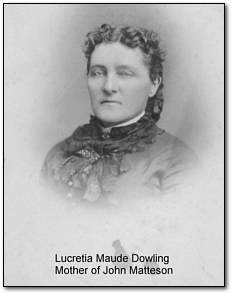 On completion of Lucretia's mission, the Mattesons returned to Charles' birthplace in Lawrence, New York, and were introduced to his family
At some point during this period, the Mattesons settled down in New York, as Lucretia gave birth to a daughter, Lucy Matteson. Lucy lived several years, but died of Cholera, and was buried in Watertown, New York.
In the early 1870's, a relative of Lucretia's in California died, leaving a large estate. In an effort to secure this estate,the Charles Mattesons moved to California. As events turned out, they were unable to secure the estate. In the mid 1870's, Lucretia gave Charles two sons, Arthur Eugene Matteson, and on January 20, 1877, John Joshua Matteson. (There is an obvious problem with recorded birth years, but Arthur was certainly the older brother)
At some time shortly after the birth of his second son, Charles disappeared, abandoning Lucretia and their two sons. He reappeared shortly afterward in Missouri, married to another woman.
In the Porter Matteson collection, I believe in "The Distinguished Mattesons" Charles Scott Matteson is listed. This Charles Scott Matteson was born in 1846, a son of Ezra D. Matteson of Lawrence, New York. He lost an arm at Gettysburg. In later years, John Joshua Matteson married the daughter of another Gettysburg veteran, Samuel Keemle.
Federal military records show that a Charles S. Matteson from Lawrence, New York enlisted in the US Army, Company I, 76th Regiment, New York Infantry. He was wounded on July 2nd losing an arm at Gettysburg. Subsequent to his injury, he was briefly listed as absent, but was then reported hospitalized in Baltimore during July and August. Porter Matteson records show that Charles later started yet a third family. Charles disappears from public records after 1908, was never seen or identified after that year, and our family (Descendants of Charles) believed him to be dead.
Of Charles and Lucretia's two sons, Arthur Eugene Matteson married but fathered no surviving children. He had a blacksmith shop near Stockton, California, and his equipment may still be seen at Wawona Village, in Yosemite National Park. John Joshua Matteson worked as a blacksmith,and an Operating Engineer. He was also an active and respected deacon in several churches. At some point John obtained a license to practice Engineering in the State of California. John Joshua Matteson married Sybella (AKA Isabel) Ruth Keemle and fathered four children. He lived until November 24, 1957, and is buried in Manteca, California.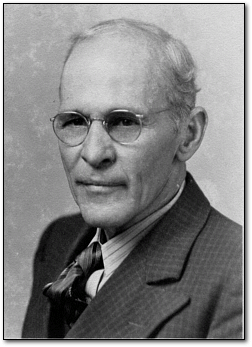 Of John Joshua Matteson's four children, his oldest son, Earle Wesley Matteson, was born on February 24, 1910, in San Francisco, California. Earle worked various jobs including mail carrier and IBEW apprenticed marine electrician in the pre-war years. He married Dorothy Knox and fathered Claire Lucille Matteson. Dorothy died of complications to Juvenile Diabetes. At the outbreak of war, Earle found himself frozen in work as a marine electrician at the Treasure Island Naval base. Later in the war he transferred to his career job with IBM's Federal Systems Division, initially in Washington DC.
Earle met Ora Isabel Tysinger, then a clerk in the Office of the Secretary of the Navy, and married her. His first son,Lowell Spence Matteson, was born February 21, 1947, in Washington DC. In 1950 he was transferred to the Oak Ridge, Tennessee nuclear facility, where his youngest son, Gregory W. Matteson was born on December 9, 1950. The Earle Matteson family relocated to California in 1956, and Earle retired from IBM in 1972. In retirement, Earle obtained a private pilot's license and had a second career, so to speak, as an assistant at a flight simulator facility. Earle died February 4, 1989, at his home in Martinez, California, after a long illness, and was cremated.
Of Earle's children, Claire Lucile Matteson married Craig Grigson and gave him five children. Craig died in 1980 of a heart attack. Claire worked for various financial, marketing and engineering firms as a financial officer. After retiring, she went to the Assemblies of God Seminary in Missouri, and obtained a Master's in Ministry. She is currently teaching at a mission Seminary in the Republic of the Ukraine, and is scheduled to return to the US in the summer of 2005.
Lowell Spencer Matteson was a successful career criminal, by which it is meant that he never served time. The family lost track of him in the early 1980's, until his demise was reported by the media in early 2003. Media reports of his career are wildly inaccurate.
Gregory W. Matteson, the author of this narrative, received a bachelor's degree in History from California State University at Hayward in 1975. Working various technology and materials handling jobs,Gregory obtained a two year college certificate in Computer Technology in 1998, and is currently working for the circulation department of a major national newspaper publishing company. Gregory has never married and has no children.
John Joshua Matteson's second child was Esther Lavina Margaret Matteson, born November 8, 1912. She has never married and has no children. Esther Matteson has devoted her entire adult life to working for the Wycliffe Bible Translators missionary organization. In 1962, Esther Matteson received a PhD in Linguistics from the University of California at Berkeley, and is cited as authority by S. I. Hayakawa in his famous work on Semantics. She lives in Aptos, California, and continues working on projectsfor the Wycliffe organization.
John Joshua Matteson's third child was Beulah May Matteson. Beulah Matteson graduated from a bible college and initially worked as a missionary in Colombia, becoming fluent in Spanish. In 1943 she married Mervin Stiles and gave him three children. Starting in the 1950's as a substitute teacher, Mrs. Stiles became a full time credentialed teacher, focusing on bilingual education, obtained a Master's in Education from California State University in San Jose, and retired in the 1980's. She lives in Aptos, California, with her sister Esther Matteson.
Beulah Stiles' first child, Enid Ruth Stiles, born October 31, 1944, became a credentialed school teacher. She married Dean Bundy and has given him two children. The Bundys currently live in Alaska. Enid Bundy has recently obtained a Master's in Education, and is continuing her work in education.
Beulah Stiles' second child Steven Eugene Stiles,was born August 8, 1947. He received his Doctorate in Ministry and Counseling from ABSW in Berkeley, California. He is Pastor of an independent church, administrator of an internationally known addiction treatment program, and is also an instructor at Bethany College, Scotts Valley, California. He and his wife Nancy have six sons.
Beulah Stiles' third child, L. Margaret Stiles (known exclusively as "Meg" Stiles), was born July 30, 1949. She graduated from Bethany Bible College and married Pierre DeMers, giving him three children. They live on a homestead in Alaska, serving the Wycliffe Bible Translators missionary organization, to this date, by invitation, on behalf of the G'witchen native people of Alaska.
John Joshua Matteson's fourth child was Franklin Eugene Matteson, born in March of 1920. He always preferred to be called Eugene. At the outbreak of World War II, he enlisted in the US Navy, working primarily as a Naval Aviation Navigator, with a second rating as a gunner's mate. He served the entire war in Seaplane service. On August 2, 1945, he disappeared while returning to his ship, inside Alameda NAS, Alameda California,and his body was found in the Alameda estuary, without his wallet. The reasonable supposition is that he was mugged and murdered.
Franklin Eugene Matteson was never married and had no children.
By Gregory Wayne Matteson
---
After word:
My mother, Ora Isabel Matteson, died in 2003. She was an orphan. On her deathbed she revealed some information that piqued my interest in her family origins. In the fall of 2004, this led me to engage Family Tree DNA for genealogical DNA. Please imagine my surprise when the first response I got from the testing was an invitation from the Matteson website; it had been confirmed by low resolution Y-DNA testing that I was linked to the larger Matteson descent genetically.
Though the Matteson website DNA page has not been updated to reflect this as of this writing (January 12, 2005), I had high resolution tests run. There are two 25 allele matches that are in the Matteson DNA project, each with a distance of -1, further defining my, and my ancestors', direct linkage to the Mattesons.
Warren Thomas Matteson
Phillip E. Mathewson
The primary genealogist of my immediate family has been Dr. Steven E. Stiles, milbroke@yahoo.com , who is mentioned above as a Matteson descendant. He has provided me with family information and photographs, but I am responsible for the composition and final content of this narrative.
Viewing the entirety of the picture I have assembled,I feel it entirely reasonable to assert, as now proven through DNA testing,that the Dowling-Matteson descendants are legitimate descendants of the "Distinguished" Matteson line, by way of Charles Scott Matteson, son of Ezra D. Matteson. I have submitted this lineage as "pedigree" to the Family Tree DNA website.
Yours, Gregory W. Matteson

Return to Articles