Matteson Family Cemetery WG076 Clean Up
Thanks everyone for helping! Scroll down for the latest updates.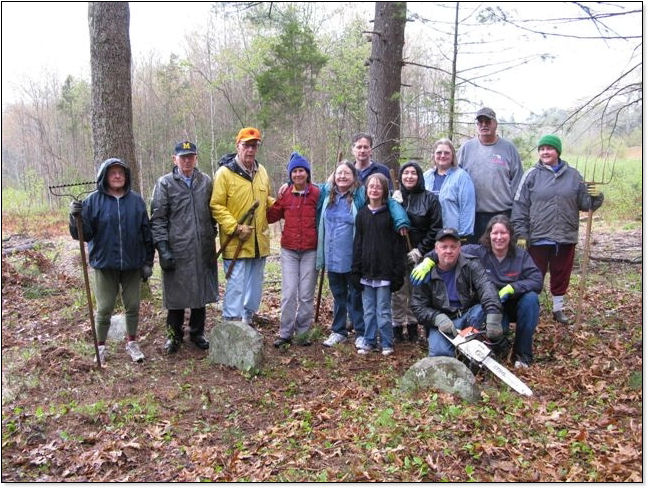 L to R - Ethel Houston, Gordon Matteson, George Matteson, Charlene Butler, Marge Matteson, Bill MacIndoe, Morgan, Gail MacIndoe, Luane Macdonald, Jeff Matteson, George Macdonald, Maryellen Matteson, Cathy. Photo by Bob Butler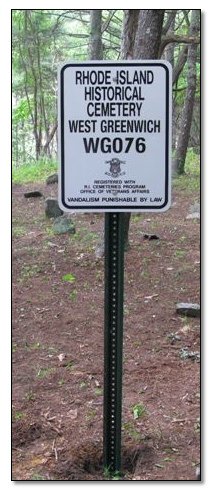 April 25,2010
Last night Ken came down with this strange virus that is sweeping thru RI at the moment...my personal opinion is it has something to do with the after-effects of the floods. But, anyway it's a very nasty thing which one minute you are well and the next you are in agony and sick as can be. We are told it only last 2-3 days so hopefully Ken will be on the mend in a day or so.
Unfortunately, he was not able to be there today because of his illness and he is heartbroken that he missed it. I am fortunate that his brother Jeff and his wife (our sister-in-law Maryellen) were able to pick me up.
I had already gotten another phone call from another cousin that they were also ill so we had lost a party of 5 that were to help.
At this point I was sure that when we got there it would just be me, my brother and sis-in-law and the Butlers who are redoing ALL the cems in WG and that this event would be canceled.
I was totally surprised when I got to the site that there were 4 cars already there! I actually carried the bag that Ken had put together for HIM to carry as well as a spare pair of loppers down the hill!! That is a major thing for me since you all know my physical prowess is much diminished! I wasn't letting anything stop me.
And, we all set to work...the sprinkles quickly turned to steady rain. But, we 13 didn't let that stop us! We would work the loppers while others cut down trees (thank you Jeff!). I alternated b/w raking and carrying dead wood out to the perimeter.
After about an hour and a half when Jeff's chain saw chain finally slipped off the bar and we were all totally soaked I took a look around. I saw that we had managed to clear almost 2/3rds of the lot. We had exposed as many stones as we could for this day so I called a halt to the cleanup. We did NOT remove all the debris! Much is left to be cleaned up the next time. But the place looks amazing compared to what it was before.
Marge Matteson
Update October 3, 2010: Thanks to the efforts of Herman Matteson, Bill and Gail MacIndoe, Russ Lorenson, Jonathan Laing, Gordon Matteson, and Ken and Marge Matteson several more previously unrecorded burials, as well as a few without inscriptions were located. Our efforts will now be more focused on attempting to identify the burials with readable inscriptions. We need more wills and records!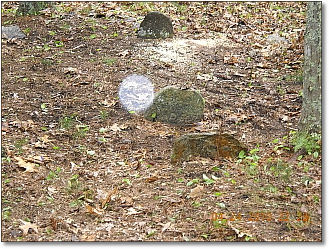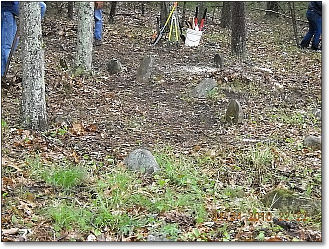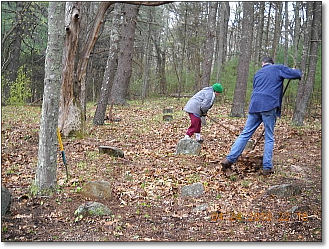 GPS coordinates 41 deg. 37' 43.644"N x 71 deg. 37' 41.088"W
The poor state of the cemetery before the clean up



Matteson Family Cemetery WG076

Return to Articles