Matteson Family Cemetery WG076 (Matteson Lot)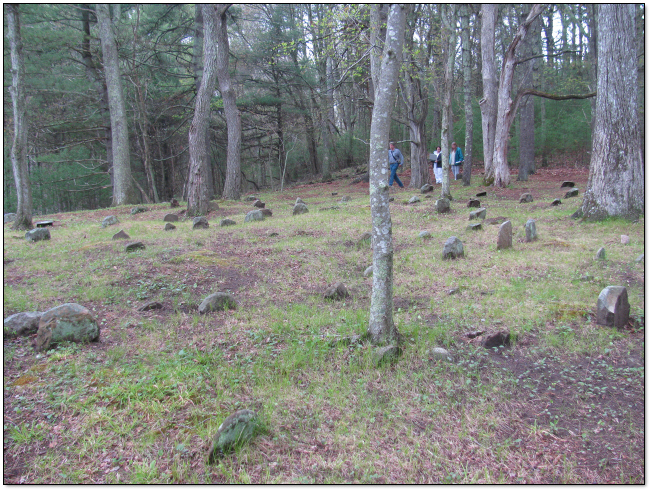 This cemetery located within the Big River Management Area is on land believed to have once been owned by Henry Matteson the immigrant or his eldest son Henry (Capt. Henry Matteson). The burials span a time period of over 100 years and all use simple fieldstones placed as both headstones and footstones which accounts for the varitaion in size, shape and the type of stones used. First recorded by Blanche Albro in the 1970s and again by John Sterling in 1992. All of the burials we have identfied so far have proven to be of Matteson descendants or of their spouses and inlaws. Henry Matteson our immigrant ancestor is buried here as are his eldest sons Henry and Thomas. This can truly be called "The Matteson Family Cemetery".

The gravestones of Capt. Henry Matteson and Thomas Matteson

One of the most interesting features found on some of the earlier markers is the unusual lettering. The letters I and V can be found where one would expect to find a J or a U, while later burials are found to have used the alphabet that we still use today.

The letters J, U, and W of the modern alphabet were not fully adopted until mid-18th century. In their place the letter I was used for J, V for U, and double interlocking Vs were used as a W. The letter I with a bar through it used in place of the letter J and the letter V used instead of a U can be found throughout the cemetery. Double interlocking Vs can also be found in place of the modern W. Below are some examples of these early stones.

History of the alphabet on Wikipedia
Ancient and modern Latin alphabet on Omniglot
View Larger Map
RIHCC cemetery listing for WG076 taken on 7/9/2013
Matteson Lot WG076 Burials
Last Name
First Name
Maiden Name
Birth
Death
___
___
1784
___
___
15 SEP 1809
C [COOPER]
C [CATHERINE]
([WEAVER])
1748
C [COOPER]
M [MANSIR]
8 JUN 1752
M [MATTESON]
___
8 OCT 1799
M [MATTESON]
___
M [MATTESON]
A
23 AUG 1778
M [MATTESON]
A
23 AUG 1781
M [MATTESON]
C [COMFORT]
([WEAVER])
17 JULY 1754
M [MATTESON]
D
2 APR 1814
M [MATTESON]
E
11 AUG 1749
M [MATTESON]
E
16 MAY 1755
M [MATTESON]
E [EBENEZER]
29 FEB 1752
M [MATTESON]
F
26 MAR 1754

M [MATTESON]
H
SEP 1779
M [MATTESON]
H [HENRY]
1646e
1693
M [MATTESON]
H [HENRY, CAPT]
1671e
13 APR 1752
M [MATTESON]
H [HENRY]
2 MAR 1754
M [MATTESON]
J
1750
M [MATTESON]
J
M [MATTESON]
J
14 Feb 1807*
M [MATTESON]
J
1777
M [MATTESON]
J [JAMES]
16 FEB 1754
M [MATTESON]
J [JUDITH]
([ANDREWS/WEAVER])
3 DEC 1753
M [MATTESON]
J [JONATHAN]
11 AUG 1822
M [MATTESON]
J [JONATHAN]
6 OCT 1784
M [MATTESON]
J [JOHN]
25 DEC 1753
M [MATTESON]
L
31 DEC 1793
M [MATTESON]
L
24 JAN 1801
M [MATTESON]
R
M [MATTESON]
R [RUTH]
([SWEET])
1 APR 1789
M [MATTESON]
S
1 JUN 1792
M [MATTESON]
S
29 OCT 1774
M [MATTESON]
T [THOMAS]
1740
M [MATTESON]
T [THOMAS]
1750
S
S
25 FEB 1743
S [SWEET]
M [MARY]
1664e
2 MAY 1752
W
A
21 APR 1797
W
J
9 APR 1758
W
M
22 DEC 1757
W
M
1800
W [WEAVER]
J [JOSEPH]
1740
W
P
DEC 18 1750**
Burials marked in Bold were found and recorded by us or our friends
*Was previously misrecorded as: M D - Feb 19, 1801
**Was discovered by Brian Jaques

Return to Articles